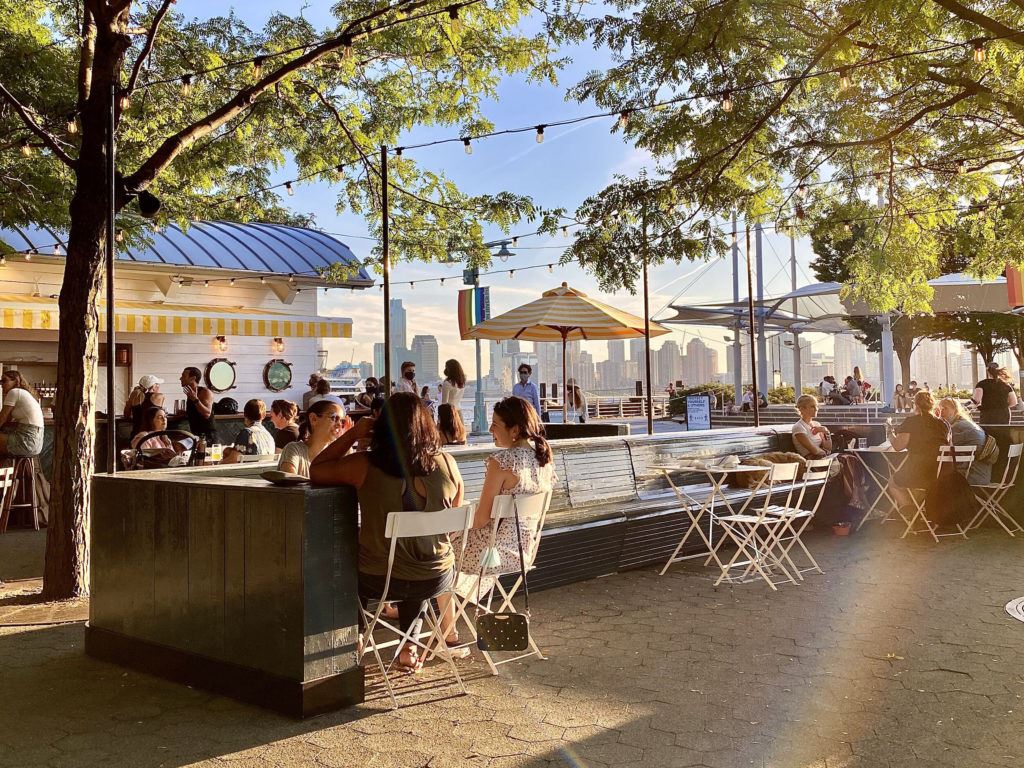 New York City's Open Restaurant Program is described as an effort to implement a citywide multi-phase program to expand outdoor seating options for food establishments to promote open space, enhance social distancing, and help them rebound in these difficult economic times. Operational and compliance difficulties aside, the program has been widely regarded as a success. Given just how hard NYC restaurant operators were hit during the pandemic, allowing for safety procedures to align with growing customer demand has saved countless establishments from shutting down. Its success is represented in the fact that "Open Restaurants has saved countless small businesses, protecting 100,000 industry jobs, and enlivening the city's streetscapes for the better," as stated by Andrew Rigie of the New York Hospitality Alliance. Given this reality, the city moved to make the Open Restaurants Program permanent within a year of being operational. This is much easier said than done, however. Instituting a permanent program will take around 2 years in order to tackle an amendment to zoning text, changes to local laws, rulemaking, and the creation of a new application. On top of these procedural challenges, the city has transferred the program's administration from the Department of Consumer Affairs and Worker Protection to the Department of Transportation – which, despite streamlining the process, has raised serious concerns from opponents. Who are these opponents? Although the program has faced serious pushback from a range of non-operators, residents in outdoor dining hotspots have proved to be the fiercest, and most vocal, challengers. 

It is on this foundation that 2 new updates have emerged regarding the Open Restaurants Program: a new lawsuit and a new city initiative targeting non-compliant structures. 

Lawsuit 

A lawsuit has just been filed against the city by a group of 23 NYC residents in the Manhattan Supreme Court. These residents, hailing from Manhattan and Brooklyn, aim to prevent the city from taking the DOT's recommendation to make the Open Restaurants Program permanent on the basis of quality-of-life issues. 

According to the filing, the group claims that "prior to its application to make the temporary open restaurants program permanent, [the city Department of Transportation] received thousands of complaints from residents related to noise, vermin, garbage accumulation, crowded sidewalks impeding residents access — all quality-of-life issues consisting of a significant impact upon the environment." It goes on to say "despite plain evidence of those adverse effects, the DOT still issued a negative declaration, foreclosing the need for more intense study of both the projected effects, alternatives, and mitigation measures." 

What they are referencing is an investigation conducted by the DOT back in June that found that, if the program were to be extended, it would not have a negative environmental effect on residents; these findings were supported by the city Law Department, whose spokesperson stated that "the city's environmental review was thorough, complete and found no adverse impact." Based on this finding, the city was effectively allowed to bypass a normal public review process – which would extensively assess the measure's impacts – and avoid rezoning laws. This bypass is exactly what the lawsuit is over. According to the plaintiff's lawyer, Michael Sussman, "these acts require the study of environmental things — noise, sanitation, parking and quality of life. These are all the factors that are supposed to be analyzed carefully before you implement these changes. They said they found no significant impact, which is impossible." 

To bolster its claims, the suit lays out case studies of each of the residents' personal alleged negative experiences with the program. One plaintiff, for example, is Kathryn Arntzen – a 32-year Greenwich Village resident who "doesn't recognize her street anymore." In her study, she explains that "their block now has 7 restaurants with outdoor seating under sheds, … music and televisions are blasted from the set-ups, … dining guests can be heard chattering loudly, …  garbage is always piled up outside the eateries, … and the rat population has grown immensely." The other cases largely mirror Arntzen's. In response, Sussman argues that "the city owes it to the citizens to follow the law." He adds that "you have to comply with very basic rules in implementing major changes to public policy, and that just hasn't been done here." 

This lawsuit comes in the wake of another development with the program: that the DOT and the city Department of Sanitation are removing non-compliant outdoor dining set-ups. 

Outdoor Setup Removal 

According to a recent announcement by Mayor Bill de Blasio, the city will be conducting a citywide canvass of outdoor dining setups in order to find out how many are actually being used as advertised. Significantly, Mayor de Blasio stated that, if they are not being used for dining, the city has the ability to revoke their permission to use sidewalk sheds and convert the spaces back to their original form – parking spaces. 

Mayor de Blasio has been supportive of outdoor dining since the pandemic began. In his announcement for the permanent program, he stated "we're happy to see restaurants that went through hell for the last year-and-a-half have additional seating, have additional revenue, have a location people like. People like outdoor dining, and we want to see the restaurant community thrive and survive in this city." Per the process that must occur before instating the permanent program, however, community boards must review the proposal and issue a non-binding recommendation. As mentioned prior, these meetings are where much of the opposition has been focused. Several community boards have already voted against approving the permanent plan, and hundreds of residents have been showing up to each meeting to voice their concerns.  

Now, however, Mayor de Blasio may be assuaging one of their key concerns: non-compliant outdoor structures. According to his new initiative, the city's Department of Transportation will begin reviewing the city's approximately 10,000 outdoor dining sites and will be warning owners that they have a matter of days to become compliant if their sheds are not being used for dining purposes. 

So far, a DOT spokesperson has confirmed that the city has removed 24 "abandoned, non-compliant, or destroyed" outdoor dining setups. Additionally, the city has visited every single sidewalk shed multiple times for inspections since July 2020. For clarification, the city deems a shed abandoned if a restaurant permanently closes; in cases where restaurants are still operating, but have non-compliant sheds on-premises, the DOT "sends emails, posts onsite, and proffers a cease-and-desist letter before removing edifices in a process that approximately takes 3 days," according to the DOT.  

Many have voiced their support for this new plan. Andrew Rigie has stated his support for the removal of these sheds as long as it is part of a "permanent, standardized, and sustainable" program. He explained in a statement that "developing a permanent, standardized, and sustainable Open Restaurants program is essential to the recovery of the city's restaurant industry and abandoned outdoor dining structures must not be part of this program's future." In a similar vein, DOT spokesperson, Alana Morales, stated "the Open Restaurant Program has been pivotal to NYC's recovery, keeping restaurants open and saving thousands of job. We also know that it is just as important to ensure the program operates as it was designed to, which includes inspections aimed at bringing businesses into compliance whenever possible." She added that the DOT "inspects setups daily and have gone to every roadway setup multiple times since July 2020, totaling over 56,000 inspections. We also encourage New Yorkers to make complaints through 311 about any issues with outdoor dining setups, including structures that appear to be abandoned.

Founded by attorneys Andreas Koutsoudakis and Michael Iakovou, KI Legal focuses on guiding companies and businesses throughout the entire legal spectrum as it relates to their business including day-to-day operations and compliance, litigation and transactional matters.

Connect with Andreas Koutsoudakis on LinkedIn.

Connect with Michael Iakovou on LinkedIn.

This information is the most up to date news available as of the date posted. Please be advised that any information posted on the KI Legal Blog or Social Channels is being supplied for informational purposes only and is subject to change at any time. For more information, and clarity surrounding your individual organization or current situation, contact a member of the KI Legal team, or fill out a new client intake form.

The post The Latest on Permanent Outdoor Dining: Lawsuits and Dining Setup Removal appeared first on KI Legal.