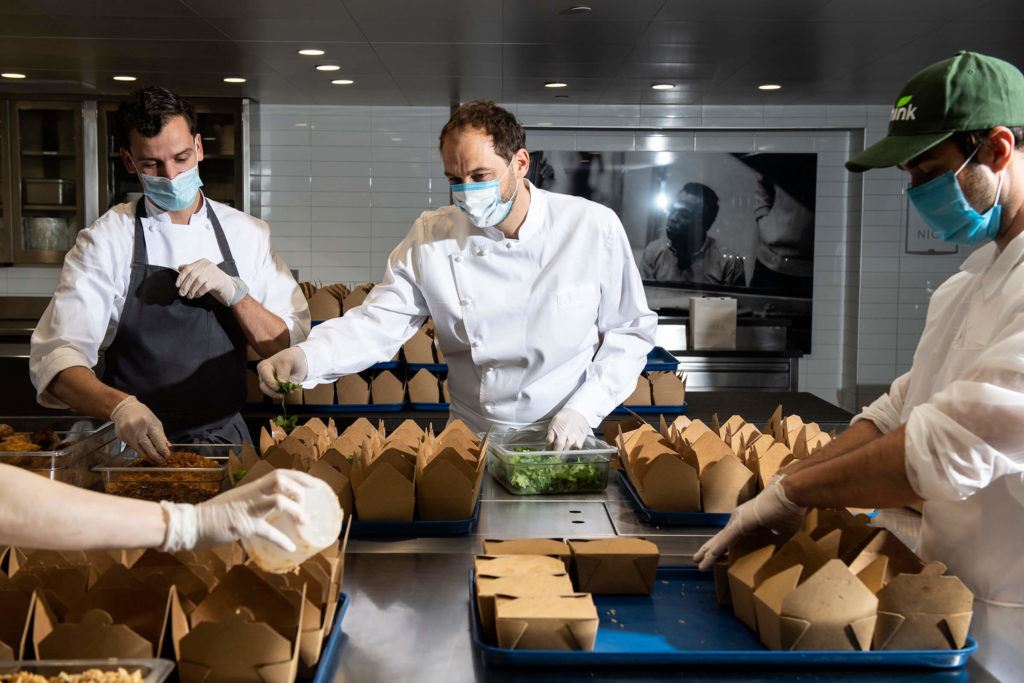 Across the United States, the pandemic has only worsened food insecurity. Whether it be due to losing your job, losing your house, or the far-reaching effects of the supply shortage – many Americans have found themselves having to go to extreme lengths, such as resorting to hospital emergency rooms, just to acquire something to eat. Although nonprofits have been fighting for years to counter worsening food insecurity, the pandemic highlighted the need for some extra support. This is where restaurant operators came into the picture. In the face of extreme pandemic-related issues, operators found a way to lend their services, whether that took the form of working spaces or the food itself, in order to play a part in this mission. Here are two programs that have already seen great success statewide in New Jersey, and in Miami, Florida. 

Miami, Florida – Rethink Food

About Rethink

Rethink Food was actually created in 2017 by Matt Jozwiak, a successful chef based in New York City. Upon seeing the need for access to healthy food in the South Bronx, Jozwiak set out to "bridge the gap between the billion tons of food that goes unused and the millions of people that face food insecurity." After connecting with food-distribution organizations and nonprofits in the area, his team was able to carry out its goal of preparing food that is "nutritious and culturally sensitive" by way of "utilizing excess food from restaurants and food establishments to prepare meals for communities facing food insecurity. In exchange, partners receive resources from Rethink to integrate community support into their daily operations."

Operations in Miami 

Since it launched in April 2020, Rethink "has partnered with over 100 food establishments in New York City, Chicago, San Francisco, Nashville, and Washington D.C." Its most recent venture: Miami. Starting in October, Rethink partnered with operators in Little Haiti and North Miami; in particular, it began working with restaurants Le Jardin and Pack Supermarket & Cafeteria as well as community-based organizations Sant La Haitian Neighborhood Center and Miami Rescue Mission. With these partnerships, Rethink has been able to distribute around 1,000 meals every week. Michael's Genuine Food & Drink will begin providing their commissary space for free in the coming months so that Rethink can continue expanding; Michael's has announced that it will be adding a surcharge to guest checks in order to fund this venture. 

Why Miami?

According to Jozwiak, Rethink began operating in Miami "largely because Sunil Bhatt and Chef Michael Schwartz of the Genuine Hospitality Group begged for it." He adds that "Miami seems like the perfect place for us to help. The restaurant community is so excited about the ability to do it. We can work really well when we go into places where things are already happening in some way shape or form, and we just come in and help organize and supercharge it." 

Beyond the willingness of the operators, however, is the fact that Miami desperately needed an organization like Rethink to come due to its high levels of inequality. According to a 2019 Florida International University study published by its Miami Urban Future Initiative, "Miami is home to the second-greatest income inequality in the U.S." The study details that, as a result, "10% of Miami residents — including 14% of children — face food insecurity, even as billionaires continue to flock to the Magic City;" U.S. Census data also highlights this same reality, finding that "40% of Little Haiti's residents live below the poverty line, compared to 4% of their neighbors in the Upper Eastside." 

As a result of this partnership, the restaurants involved have actually received more customers as well as more recognition in the local community. According to a statement given by operators to the Miami New Times, they are not only "getting massive standing orders 3 times a week" but also have been "able to hire more workers thanks to the influx of cash and demand." 

Seeing how successful Revisit's efforts have been in Miami, it is not hard to imagine what this operation would look like on a larger scale. This is where New Jersey has been successful. 

New Jersey – Sustain and Serve 

About Sustain and Serve 

The Sustain and Serve program was established in the spring of this year to help small businesses affected by the pandemic. It was originally part of a $235 million suite of Covid-19 relief passed by the New Jersey Legislature, $14 million of which went to the program. The way it worked is that, according to the New Jersey Economic Development Authority, nonprofit organizations would receive anywhere from $100,000-$2 million to purchase meals from eligible restaurants and then deliver them to residents free of charge. 

Operations in New Jersey 

According to New Jersey Economic Development Authority executive vice president of economic security, Tara Colton, "all of the restaurants have to have 50 or fewer employees, so that we can really target our focus on small businesses." In addition, she added that the program is "on track to serve 3.5 million meals by the end of January." Currently, Sustain and Serve has been able to pay 28 organizations and 340 restaurants statewide to produce over 1.5 million meals. 

MadeMeals, for example, is one of many programs that have come out of Sustain and Serve. Paid for by the nonprofit Coalition for Food and Health Equity, MadeMeals is a delivery service that "helps you eat mindfully by delivering fully prepared meals made with local, organic, and human ingredients." By way of its partnership with the Coalition, MadeMeals only delivers food to subscribers of the Coalition's Hunger Project meal subscription service; this service is targeted towards feeding "seniors over the age of 65, homeless individuals and persons with disabilities," according to Coalition founder and executive director, Leeja Carter. 

Why New Jersey?

Similar to why Miami needed such a program, residents in New Jersey face high levels of food insecurity that has only worsened over the course of the pandemic. According to data from the Community FoodBank of New Jersey, "before the onset of the pandemic, around 700,000 people in New Jersey were food insecure… Now, no less than around 800,000 people are food insecure." While the pandemic undoubtedly exacerbated the insecurity, the state's high rate can be associated with a number of factors; two of said factors include the fact that state data on who exactly is food insecure, and how exactly access to food is in the state is reliable, has been overwhelmingly misleading. 

Also similar to Miami is the fact that the Sustain and Serve program has proven to be a saving grace for restaurants as well. According to New Jersey Restaurant and Hospitality Association president and chief executive, Dana Lancellotti, "20 months into the pandemic, restaurants were still facing challenges, like labor shortages and supply chain issues, but initiatives like Sustain and Serve were helping many places keep their doors open." Thus, although the program was initially created to help save those residents who did not have access to food, it ended up benefiting suffering restaurants just as much. 

As can be seen, on both a local and statewide level – these programs can really make a difference in the overall quality of life of both residents and businesses. While the pandemic may seem like the perfect, and worst, time to embark on costly projects, the U.S. is home to a multitude of food insecure populations that could use something like Rethink Food and Sustain and Serve in their communities as soon as possible. 

Founded by attorneys Andreas Koutsoudakis and Michael Iakovou, KI Legal focuses on guiding companies and businesses throughout the entire legal spectrum as it relates to their business including day-to-day operations and compliance, litigation and transactional matters.

Connect with Andreas Koutsoudakis on LinkedIn.

Connect with Michael Iakovou on LinkedIn.

This information is the most up to date news available as of the date posted. Please be advised that any information posted on the KI Legal Blog or Social Channels is being supplied for informational purposes only and is subject to change at any time. For more information, and clarity surrounding your individual organization or current situation, contact a member of the KI Legal team, or fill out a new client intake form.

The post Restaurants Nationwide Partner with Nonprofits to Fight Food Insecurity appeared first on KI Legal.