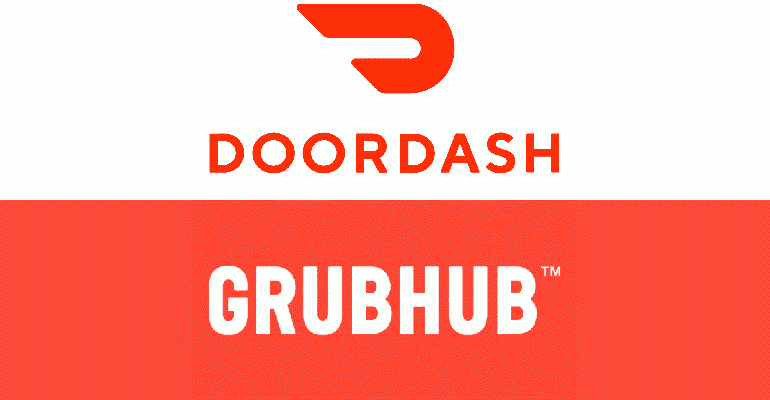 Over the course of the pandemic thus far, third-party food delivery service providers have consistently rolled out new technological features to make their services more attractive and offer users new and innovative options. Recently, DoorDash and Grubhub created two new features just in time for the holiday season: DoorDash's nationwide shipping, on DoorDash and Caviar, and Grubhub's supplemental delivery service, which allows operators to expand their delivery zones. Here is a look at both new features. 
DoorDash's Nationwide Shipping
DoorDash's Nationwide Shipping on DoorDash and Caviar will allow users to order food from establishments and retailers across the country. Starting November 8th, consumers can order items – ranging from flowers to fresh produce to savory meals – with free delivery "in just a few days." According to DoorDash's website, this program includes a "wide variety of restaurants and shops across the country to choose from ranging from famed and well-known merchants like Carlo's Bakery (Hoboken, NJ), Katz's Delicatessen (New York, NY), Carbone (New York, NY), and Get Maine Lobster (Portland, ME) to local heroes like Big Shakes Hot Chicken (Franklin, TN), Chocolate and the Chip (Los Angeles, CA) and more." 
How exactly will it work? Users will be able to directly click on the "Nationwide Shipping carousel" on both the DoorDash and Caviar apps, which will advertise all available merchants and offerings. Once users reach the checkout page, the estimated delivery date range will appear – all within a 1-2 day free shipping period. Users will be notified of when their order has been received via a confirmation email, and will also receive another email once the order has been delivered. 
DoorDash has also given users the opportunity to send friends and loved ones a gift via its Nationwide Shipping. Users will be prompted with the option to send their order "as a gift" at checkout and will reportedly have the option of sending a "range of fun, digitally-animated cards for a variety of occasions, craft a personalized message, add in the recipient's contact information and place the order." 
According to DoorDash's press release, "DoorDash was founded to empower local communities, and Nationwide Shipping will continue to foster delightful experiences and inspire connections with local businesses in neighborhoods and cities across the country." 
Grubhub's Supplemental Delivery
GrubHub has also announced the launch of a new feature: its new supplemental delivery service. This service will allow restaurants who already have self-delivery to broaden their delivery zone by partnering with the service provider. Instead of having to choose between self-delivery and third-party food delivery, restaurant operators will be able to retain their independence while also catering to a wider audience by allowing Grubhub to "pick up the slack for orders placed on Grubhub for a designated delivery zone outside of that radius." 
According to Grubhub, the catalyst for this new feature is the fact that "many of its restaurant partners [have voiced] that hiring is more difficult now than ever before. [Thus], with these labor challenges top of mind, it developed Supplemental Delivery to help restaurants reach more diners through Grubhub without adding extra strain to their existing drivers." 
So what would this actually look like? Well, restaurants who are signed up with this service will be able to clearly demarcate both their self-delivery radius and their supplemental boundaries. According to Grubhub's website, any "orders placed by diners on Grubhub within the newly expanded boundary [will be] sent to a restaurant's Grubhub tablet just like their other Grubhub orders, but they [will be] clearly marked as being for pickup and delivery by a Grubhub driver." Those orders placed on Grubhub that fall under the existing delivery boundary will continue to be delivered by the restaurant's driver. According to Grubhub, this effectively has allowed its "restaurant partners, that are already using Supplemental Delivery, [to] more than double the diners they are able to reach on the Grubhub Marketplace." 
Technically, this feature has already been invented and implemented. Several other third-party delivery companies already offer "last-mile supplemental services," however Grubhub's is different: it doesn't require operators to do any extra work. More specifically, it doesn't require the operator to indicate that they need the third-party delivery services' help – the process is instead automated; any orders that are placed within the establishment's self-delivery zone will be carried out by the establishment, and any orders placed outside of that scope will be carried out by "Grubhub's fleet of more than 100,000 drivers." 
In an effort to ensure that food is kept hot and fresh, operators will need to meet with Grubhub representatives to set specific boundaries that are plausible. Operators will have a choice of either 1) paying a 10% flat fee on every supplemental delivery order or 2) passing that 10% onto the customer. 
According to Grubhub senior vice president of restaurants, Kevin Kearns, Grubhub "restaurant owners have been struggling with finding and keeping drivers and this really helps. This helps them keep that part of their business going and keeps their delivery customers coming back. […] Almost every restaurant that has been eligible to try out this feature has adopted it." So far, this feature has only been unofficially available in beta tests since September. Recently, however, it was rolled out system-wide and has allowed Grubhub to "route 100,000 orders to its delivery drivers from restaurants that have signed up" since that September soft-launching. 
Not to Forget…
Meanwhile, however, both DoorDash and Grubhub have been engaged in a litany of legal battles over different aspects of their services (please link to 10/22 post). Here is a short look at which ones are still ongoing:
July – DoorDash and Grubhub filed a lawsuit against the city of San Francisco over its permanent cap (Link). 
August – DoorDash and Grubhub filed a lawsuit against the city of Chicago over its permanent cap (Link). 
September – DoorDash, Uber Eats, and Grubhub filed a lawsuit against New York City over its permanent cap (Link). 
September – DoorDash filed another suit against New York City over its data sharing legislation (Link)

NYC, however, has agreed not to enforce this one (please link to post from 10/5)
With this being said, both DoorDash and Grubhub have concurrently contributed substantial funding to their various community outreach initiatives. For example, in October DoorDash created its $1 million Restaurant Disaster Relief Fund (please link to post from 10/19); this fund, which was part of its 5-year-$200 million Main Street Strong pledge to empower local communities, provides relief grants to restaurant operators nationwide that have been affected by natural disasters throughout the next year. Grubhub, on the other hand, partnered with the National LGBT Chamber of Commerce to provide grants to restaurants with LGBTQ+ operators throughout the fall (please link to post from 9/27); these grants, ranging from $5,000 to $100,000, will be awarded to "LGBTQ+-owned or LGBTQ+ ally-owned restaurant, bar or café that serves food" – of which 30% will be given specifically to restaurants owned by people of color, transgender, and gender non-conforming people. 

Founded by attorneys Andreas Koutsoudakis and Michael Iakovou, KI Legal focuses on guiding companies and businesses throughout the entire legal spectrum as it relates to their business including day-to-day operations and compliance, litigation and transactional matters.

Connect with Andreas Koutsoudakis on LinkedIn.

Connect with Michael Iakovou on LinkedIn.

This information is the most up to date news available as of the date posted. Please be advised that any information posted on the KI Legal Blog or Social Channels is being supplied for informational purposes only and is subject to change at any time. For more information, and clarity surrounding your individual organization or current situation, contact a member of the KI Legal team, or fill out a new client intake form.

The post DoorDash and Grubhub Launch New Tech Services in Time for Holidays appeared first on KI Legal.