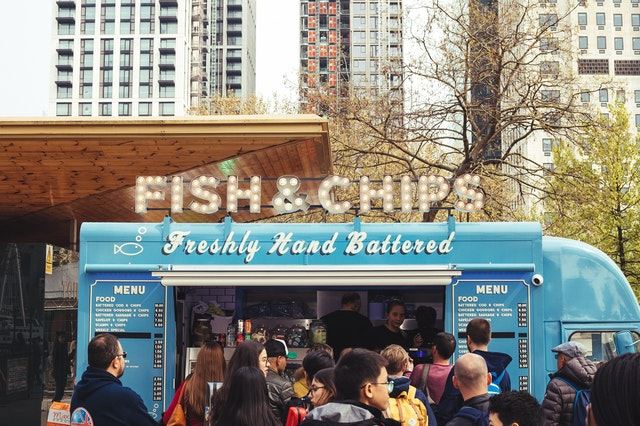 Photo courtesy of Kev's Best

Food trucks and food carts are a staple of New York City; infamous for their wide variety of cheap fares, one can find a truck or cart on virtually every street in the city. Although this seems like these entities rely on business from passersby or tourists, the majority of their profit actually comes from office buildings. Given the mass office closings during the pandemic, many of these vendors have had to wait patiently for their business to come back. 

Although some offices have reopened, and many more are expected to by September, the volume is simply not the same. Compounding this is the attractiveness of remote work, which is sure to keep many workers at home for the foreseeable future, and the rise of Covid-19 cases due to the Delta variant, which has risen at an average of 203% in the past couple of weeks. 

Food trucks and carts have done their best to survive the pandemic. Their mobility certainly affords them more opportunities for business than for brick-and-mortar businesses. The underlying honor code that these businesses uphold allows them to stay competitive while still respecting the locations and clients of others. 

This being said, smaller and/or less well-known trucks and carts have been suffering greatly. The bulk of these owners are recent immigrants who often buy city-issued permits on the underground market but then have to pay massive amounts to those individuals who hold the permit for years after. The city has begun to address this problem, announcing that it will annually issue 400 new permits over the next decade that cannot be traded in an underground market; this will introduce much more opportunity for new and current businesses to commence their operations without strings attached given that only 2,800 permits exist currently. The baseline costs it takes to operate such trucks or carts, however, have proven impossible in the face of virtually no business during the pandemic. Not only must vendors pay for the items they sell every day, but they must also pay for transportation and gas to bring these items to their trucks or carts. According to Mohamed Attia, managing director of the Street Vendor Project at the Urban Justice Center, "most of them need to spend $300 a day just to open the doors, and if you're not seeing those kinds of sales, you're going to lose money." With so many obstacles in their way, many truck and cart owners have opted to abandon previously popular areas, such as Midtown, for those that are still bustling, such as near universities like Columbia; some have even ventured outside of the city to find business. Additionally, many owners have focused their operations more so on catering jobs for events such as bar mitzvahs and weddings. Although these events help, they still do not make up for the loss of the normal, pre-pandemic crowds that they used to see. 

Overall, with 40% of pre-covid business back and food costs rising exponentially, food trucks and carts are stuck in the negative feedback loop that owners know all too well, where higher menu prices leads to even less business and so on. 

Founded by attorneys Andreas Koutsoudakis and Michael Iakovou, KI Legal focuses on guiding companies and businesses throughout the entire legal spectrum as it relates to their business including day-to-day operations and compliance, litigation and transactional matters.

Connect with Andreas Koutsoudakis on LinkedIn.

Connect with Michael Iakovou on LinkedIn.

This information is the most up to date news available as of the date posted. Please be advised that any information posted on the KI Legal Blog or Social Channels is being supplied for informational purposes only and is subject to change at any time. For more information, and clarity surrounding your individual organization or current situation, contact a member of the KI Legal team, or fill out a new client intake form.

The post Food Truck and Cart Operators Struggling to Survive Without Busy Offices appeared first on KI Legal.