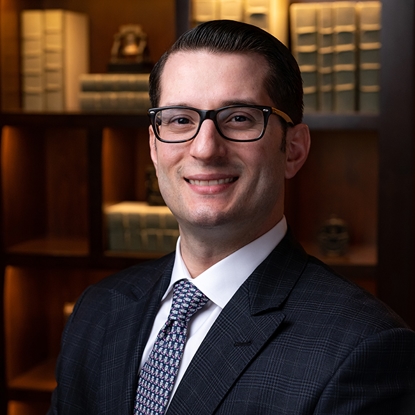 Matthew Zwiren Partner
Matthew Zwiren is a partner at KI Legal in the Real Estate Transactions and Litigations Department. Joining the firm in June 2022, Matthew successfully completed a 1031 tax-free exchange transaction with assets totaling roughly $19M, as well as successfully completing a 31-building, approximately $70M refinancing package for a multi-generational-family-owned real estate holding company. 
Matthew began his legal career as Assistant General Counsel for a more than hundred-year-old closely held real estate management and ownership company based in New York City.  Within two years he was named General Counsel and spearheaded the company's legal department.  In his role as General Counsel, he provided guidance and advice on a wide range of matters, all while handling the company's many transactions and its full landlord-tenant case docket. 
Previously, Matthew was the sole attorney responsible for litigating a landlord-tenant case docket that often consisted of over two hundred fifty active cases.  To handle such a large caseload, he streamlined the company's operating procedures and put several policies in place to ensure efficient and effective case management.  In addition to litigating the company's landlord-tenant matters, Matthew was responsible for all real estate transactions involving the company and its many holdings. 
Matthew has been the lead attorney on multi-million-dollar commercial real estate purchases and sales that involve multifamily, triple-net retail sites, and development lots throughout the country, with a focus on the New York City metro area.  He also assisted in the acquisition of a New York City multifamily property through a tax lien auction.  Furthermore, Matthew is well-versed in 1031 tax-free exchange and reverse-1031 tax-free exchange transactions; completing exchanges that total well over eighteen million dollars in value.  In addition to his commercial transaction skills, Matthew has years of residential real estate experience. 
Matthew has helped many families purchase and sell homes, ranging from first-time home buyers to experienced homeowners purchasing or selling a home, second home, or investment property.  Having completed residential transactions involving all types of properties from single family residences to condominium and cooperative units, he has the experience to bring all types of residential deals to the closing table.  His wide-ranging experience makes him knowledgeable about the real estate markets in both New York City and the surrounding suburbs. 
Areas of Practice
Commercial Real Estate Transactions
Residential Real Estate Transactions
Landlord-Tenant Litigation
Legal Entity Creation and Governance
Asset Protection
Education
Pace University School of Law (Juris Doctor and Environmental Law Certificate, received January 2014)
University of Maryland, College Park (Bachelor of Arts Degree in Government and Politics, received May 2008)
Bar Admissions
Court Admissions
Memberships & Affiliations