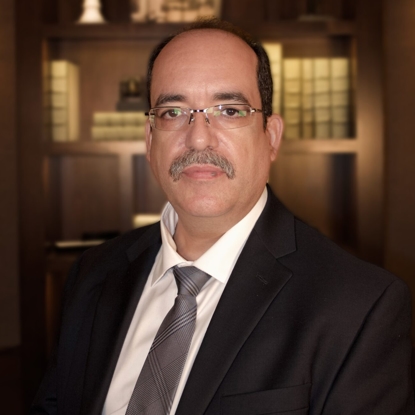 Eric Torres Senior Associate
Eric Torres is a senior associate at KI Legal in the Landlord-Tenant Litigation & Family Office Consulting Division. Eric brings over twenty years of diversified real estate and landlord-tenant litigation experience as a seasoned litigator in private practice and as a mentor for a myriad of New York City organizations and programs dedicated to handling landlord-tenant litigation. Having been on every side of the negotiating table, Eric's broad-based experience allows KI Legal's clients' matters to be resolved expeditiously and cost-effectively.   
Eric earned his JD in 2000 from the City University School of Law, and his BA in Social Psychology from Tufts University. His career as an attorney began at the high-volume defense practice of the Bronx Legal Services; there, he litigated thousands of cases in the Bronx Housing Court of New York City's Civil Court, the New York State Supreme Court, and administratively at the New York City Housing Authority ("NYCHA"), the New York State Division of Housing and Community Renewal ("DHCR"), and the New York City Department of Housing Preservation and Development ("HPD"). Torres entered private practice in 2005.  
Eric has been a Bronx legal community staple for the past twenty years, participating in and securing a variety of state governmental contracts and public bids on behalf of and for the benefit of his clients. He has co-supervised various bi-lingual legal clinics throughout NYC including VLFD (court-initiated volunteer programs in Housing Court attorney-for-the-day programs throughout the boroughs in New York City), the Bronx YMCA, and with the offices of elected officials Jeffries, Espaillat, and Sanchez. Among other professional accolades, Eric has previously served as a legal supervisor at the Neighborhood Association for Inter-Cultural Affairs and the Assistant Director for RiseBoro's Legal Empowerment and Assistance Program which is a multi-million-dollar community-based non-profit free legal services program focused on enforcing housing rights for Brooklyn tenants in diverse low-income communities.  
Over the course of his career, Eric has been a member of the Puerto Rican Bar Association, the New York State Bar Association, the Association of the Bar of the City of New York, The National Legal Aid & Defender Association, and The Bronx County Bar Association. By way of his membership at the City University of New York School of Law's Community Legal Resources Network, Eric has provided CLEs and has provided legal services to elected official's constituents in The Bronx.  Notably, as an adjunct professor, he eagerly mentored new lawyers selected to participate in an attorney incubator program, then the first of its kind. Eric has also been a regular English and Spanish language guest panelist at legal housing fora small and large within NYC and internationally. 
Areas of Practice
Landlord-Tenant Litigation
Family Office Consulting
Industries
Education
City University School of Law, J.D.
Tufts University, B.A. in Social Psychology
Bar Admissions
Court Admissions
Professional Licenses & Affiliations
Bronx County Bar Association, Member
The City University of New York School of Law Community Legal Resources Network, Member
Awards & Accolades
CLRN Attorney Delegate Overseas to Ecuador, 2010 & 2012
CLRN Attorney Delegate Overseas to Israel, 2007
CWTFHC, Inc's Appreciation, 2003 [now known as Housing Court Answers]
Attorney General's Recognition for Outstanding Service, 1999
LaSED's Appreciation, 1998
National PR Coalition Future Life Achievement, 1994
Service Citation, 1994
Close Up to Washington, DC, 1988
Young Diplomat Overseas to Beijing, People's Republic of China, 1989
Languages